Ballet 1A & 1B Class Details
New and budding ballet dancers get to explore their creativity in this sweet pre-ballet movement class. Students stretch with creative play, learn the first words and steps of basic ballet, express their joy moving across the floor and create a special card at the end of each class to help them remember what they learned each week. Dancers listen to classical music while taking ballet barre and centre. We are an inclusive family of dancers and encourage every little one to join us.
Weekly Schedule: Wednesday 5-5:45 pm (1A) and 5:45 - 6:30 pm (1B)
Because we believe in keeping our class sizes small (usually 10 students or less in this group), we're starting the year with two classes 1A and 1B for our Level 1 students. We're asking all our returning Level 1 /Pre-Ballet students and those in Kindergarten or 1st grade who may have already had some ballet previously to sign up for the 1B class. For those brand new to ballet and in the age group 4-5 please sign up for the 1A class. If you have questions, reach out and let us know and we'll help you determine what's best for your child.
Registration opens August 15th. The first class is per the schedule below.
Classes are organized and priced per Session block. The Sessions are detailed below and include the price per Sessions. The sessions are 7-9 classes that are blocked according to fit the school calendar year and avoid Monday holidays for Duval county schools.
Per student one-time registration fee is $25. For families with more than one child, your family will be charged a max of $50 for registration fee.
Class Dates and Sessions Schedule for Level 1A & 1B, priced per Session
Ballet Pre-Ballet/Level 1: Monday 5:00 - 5:45p (1A) & 5:45 - 6:30p (1B)

1A: 4-5yrs old new to Saltmarsh Dance 5p
1B: Typically 5-6yrs old returning students 5:45p

Early Fall 2022 Session (7 Classes $175): Aug 29 - Oct 17

(No Mon classes on Labor Day weekend)
Aug 29 Mon
Sep 12 Mon
Sep 19 Mon
Sep 26 Mon
Oct 3 Mon
Oct 10 Mon
Oct 17 Mon

Late Fall 2022 Session (7 Classes $175): Oct 24 - Dec 12

(No class Mon after Thanksgiving Weekend, No classes during Duval Winter Break)
Oct 24 Mon
Oct 31 Mon
Nov 7 Mon
Nov 14 Mon
Nov 21 Mon
Dec 5 Mon
Dec 12 Mon

Winter 2023 Session (7 Classes $175): January 9 - March 6

(No class MLK Day, No Class Presidents Day, No Classes Spring Break)
Jan 9 Mon
Jan 23 Mon
Jan 30 Mon
Feb 6 Mon
Feb 13 Mon
Feb 27 Mon
Mar 6 Mon

Spring 2023 Session (7 Classes & End of Year Showing $225): Mar 27 - May 22

Mar 27 Mon
Apr 3 Mon
Apr 10 Mon
Apr 17 Mon
Apr 24 Mon
May 1 Mon
May 8 Mon
May 15 Mon (Class/ Rehearsal)
May 22 Mon (Showing at our studio stage for Family & Friends (Includes 4 guests, extras $10 per person)
Ballet Level 1 Saturdays Only or Extra: Saturday 9:00 - 9:45am

Fall Saturdays 2022 Session (10 Classes $250): Sep 17 - Dec 10

(No Sat classes on Labor Day weekend, No classes during Holidays breaks)
Sep 17 Sat
Sep 24 Sat
Oct 1 Sat
Oct 8 Sat
Oct 22 Sat
Oct 29 Sat
Nov 5 Sat
Nov 19 Sat
Dec 3 Sat
Dec 10 Sat

Winter Saturdays 2023 Session (8 Classes $200): Jan 7 - Mar 25

(No Sat classes on MLK or Presidents Day weekends, No classes on Spring Break weekends)
Jan 7 Sat
Jan 21 Sat
Jan 27 Sat
Feb 4 Sat
Feb 11 Sat
Feb 25 Sat
Mar 4 Sat
Mar 25 Sat

Spring Saturdays 2023 Session (7 Classes $175): Apr 1 - May 20

Apr 1 Sat
Apr 15 Sat
Apr 22 Sat
Apr 29 Sat
May 6 Sat
May 13 Sat
May 20 Sat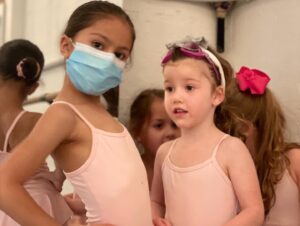 Attire: Girls ~ leotard* (light pink with a pink skirt), Pink tights, pink ballet slippers with elastic.  Boys ~ Solid white fitted t-shirt with black shorts or tights and black ballet shoes. Hair ~ Hair in a bun or for shorter styles restrain away from face and off the neck.
Studio Tel: 904-923-0977